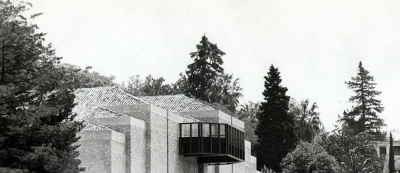 FOUNDATION
The Archivo Manuel de Falla is a public institution which preserves the library and documental legacy of the composer. It has been based in Granada since 1991 thanks to an important institutional agreement between the Fundación Archivo Manuel de Falla and the Ayuntamiento de Granada (the city council), strengthened by the involvement of the Spanish Ministry of Education, Culture and Sport, the Department of Culture of the Junta de Andalucía, and the University of Granada.

Based in the Centro Cultural Manuel de Falla complex, next to the Casa-Museo Manuel de Falla, the Archivo consists of the historical documentary collection and an extensive reference library concerning the composer's life and times. There are several reasons why this is one of the most complete and best preserved archives relating to this period of history. Manuel de Falla was closely associated with the most important figures of his time " musicians, writers, painters, politicians, etc. " and documentary evidence of those relationships is preserved in the archive. A bibliophile and a remarkably meticulous man, Falla kept almost everything that came into his hands, from musical scores to electricity meter receipts. This original collection, carefully preserved, has been supplemented over the years with further acquisitions, donations and transfers on deposit.

The principal aims of the Fundación Archivo Manuel de Falla are: the conservation and augmentation of its documentary holdings, and the promotion of their study and diffusion, for the benefit both of the musicological community and of a wider public interested in the life and work of Manuel de Falla and its cultural contexts.

SUPPORTING INSTITUTIONS
Ministerio de Cultura, Consejería de Cultura of the Junta de Andalucía, and Universidad de Granada.